Author(s): Iryna Marholina (2019) – last update: 2021-01-11
The Государственный фонд кинофильмов Российской Федерации or Госфильмофонд России (ГФФ) / The Russian State Film Foundation or The Gosfil'mofond of Russia (GFF) is the largest film archive in Russia. It specializes in motion pictures, both Russian (including Soviet) and foreign, but its vast collection contains non-fiction films and newsreels as well. There is also a paper archive where film accompanying documents are kept.
In 1933 the first regulation on the creation of the Main Administration of the Cinema and Photographic Industry (GUKF) was approved by The Council of People's Commissars. One of its tasks was to determine the organization of all-Union film storage (repository of all films copies released in the USSR) and photo storage (repository of photonegatives copies). And after a few negotiations of determining the location, finally, in 1937 building began in Belye Stolby within the Moscow region.
What initially began as small and poor-equipped, the Gosfil'mofond found a new status in post-war time when the collection was enriched with echelons of films from Germany as trophies. Newly obtained films were necessary to be researched, so the archive needed specialists with knowledge of film history and foreign languages which brought the State Control Commission of USSR to make a decision to reorganize Государственное фильмохранилище / State Film Storage into Всесоюзный Государственный фильмофонд / all-Union State Film Foundation. Along with young specialists, a humble and unique collection of silent films preserved by film historian Sergei Komarov arrived from VGIK.
By the 1960s the Gosfil'mofond became the main place for all Soviet filmmakers as, for a long time, it was the only place in the Soviet Union where different foreign films could be seen. Now alongside with depository buildings, it owns a huge territory with a laboratory where films are printed, restored and digitalized.
The Gosfil'mofond houses more than 1 million 35mm film reels with the following content: pre-revolutionary silent Russian films, Soviet films (incl. non-fiction, documentaries, newsreels, animation), silent foreign films (of different types from the USA, Great Britain, Poland, France, Japan and other countries), sound foreign films (of different types), one part of collection still contains original nitrate-base film (dangerous flammable film base), the other part was transferred to a safe film base.
The paper archive keeps files divided by directors and films, organized by titles (for silent films), detailed scripts of Soviet films made for censorship organs, fragments from different periodics about a certain film, photos, censorship references and certificates, transcripts of artistic councils, letters, bibliographies.
Contact
Postal address:
Госфильмофонд России (ГФФ) /
The Gosfil'mofond of Russia (GFF)
г. Домодедово, мкрн. Белые Столбы Проспект /
Domodedovo, Belye Stolby microdistrict
Госфильмофонда /
Gosfil'mofond ave.
142050 Московская обл. /
142050 Moscow region
Российская Федерация /
Russian Federation
Telephone numbers:
– Head of GFF Filatova E.W. (reception room): +7 (495) 980 44 86
– Press-office: +7 (499) 941 06 80 ext. 1102
– Orders department: +7 (495) 925 35 49
– Head of Filmography & Foreign Relations Dpt. Derevjankina O.N.: +7 (499) 941 06 80 ext. 1210
E-mail addresses:
– Official: gff@gff-rf.ru
– Orders department: otdelzakazy@yandex.ru
Opening hours (for all departments):
Monday-Thursday: 8:30 – 17:30
Friday: 8:30 – 16:30
Lunch break: 13:00-14:00
Website
How to Find the Archive Sites
The archive is about 50 km from Moscow and possible to reach by train or by car.
There is Belyye Stolby (Белые Столбы) train station, which is about 25 minutes away by foot. You'll see in the map above that, from the Belyye Stolby station, there is a straight road that leads to a roundabout. Go straight, i.e. to the opposite side of the roundabout, and keep heading straight, which leads you to the only-possible road Avenarius Street (Авенариуса улица). Keep on Avenarius too until it ends at Gosfil'mofond Avenue (просп. Госфильмофонда). When you reach Gosfil'mofond, turn right and you will see the first checkpoint – just after passing Yuzhnaya Street (Южная улица) – where you'll get your «própusk» (an archive pass). Then go forward along Gosfil'mofond Avenue until you reach the second checkpoint. After passing that, you will see the building on the left. Take your next left into the driveway. As you approach the building, the main entrance is out of sight. The driveway, which is heading south, splits into a Y and you need to keep left, following the east side of the building to reach the main entrance.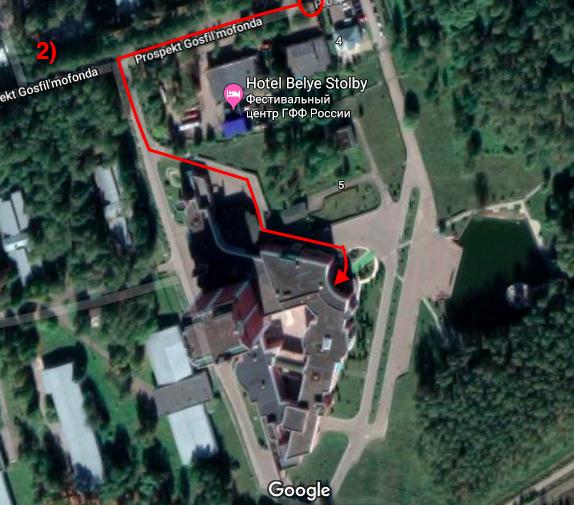 Google Maps. Accessed 2019-06-04. URL: https://www.google.com/maps/@55.3229004,37.8299152,372m/data=!3m1!1e3?hl=de
Note that you can order a taxi and get to the archive from the train station within just four minutes. It costs 100 Rubles. You only need to name the archive Gosfil'mofond or prokhodnaia Gosfil'mofonda (проходная Госфильмофонда). Usually, there are several cars right after the exit from a platform. You can also use following telephone numbers, but please note that the services do not speak English, so it is best to simply show the name or address in-person to taxi drivers at the station.
1) +7 (919) 762-19-76
2) +7 (905) 555-53-15.
Trains depart there from Paveletskii train station (Павелецкий вокзал), near Paveletskaya (Павелецкая) metro station, in Moscow, where you can purchase a ticket. The train journey is about one hour. The train schedule is available at https://www.tutu.ru/rasp.php?st1=20000&st2=85011&date=all
It is also possible to travel from Nizhniye Kotly (Нижние Котлы) train station, which is a little cheaper. Nizhniye Kotly is situated near Nagatinskaya (Нагатинская) metro station. (You should sit at the head of the train when traveling there from the city center.) If you arrive to Nagatinskaya metro station, there is no need to exit the station to go to Nizhniye Kotly train station. Just go straight forward along the underground tunnel. After passing the metro doors, turn right twice. Tickets machines are right before an exit to a platform. If it helps, refer to this above-ground map of the area.
For car it is necessary to know, that it is impossible to use route M-4 or Don (а/д Дон) after the last road junction before the destination, for it goes through the authorized vehicles only territoryor the archives. You have to reach Gosfil'mofond from the east side, i.e. the train station side.
How to Plan a Visit and to Prepare for It
It is better to plan everything beforehand. Usually, requests are concentrated on using films. You may need to watch the whole film or some particular part. If you are not sure about exact films, you better send a general request for a consultation from Gosfil'mofond researcher. You can also ask to check the availability of films you are sure about.
After the list of research materials is clear, you need to send an official request to the name of the head of Gosfil'mofond of Russia, Filatova Elena Vyacheslavovna (Филатова Елена Вячеславовна). In the request, you need to describe the material and services you need from the archive and describe the purpose of your work.
Usually, an answer takes some time (from several days to a week). In a letter, you will receive information for your further steps, depending on what you've requested. It is the best to write from the educational organization as any personal requests or requests made from other organizations are charged. All offered services and prices are posted on the official site (link: http://gosfilmofond.ru/price-services/#serv1).
The final step of the process is scheduling the day of your visit.
In case you want to check file cabinets of Gosfil'mofond yourself and have enough time for making a request for films and have enough time for retrieving them (as it takes some time to retrieve them from the storage room to the administrative building where you work), you should also send an official request on the name of the head of the archive requesting said visit and again describing the purpose.
You mostly negotiate with two persons after sending the request: Olga Nikolaevna Derevjankina who is the head of Filmography & Foreign Relations Dept. (Ольга Николаевна Деревянкина) and Olga Petrenko (Ольга Петренко) from the Orders Dept. You will find the location of their rooms on a further scheme.
Registration
It is obligatory to have a passport with you. You will be given a «própusk» (an archive pass) only after having shown your passport at the first checkpoint.
Reading Room / Editing Rooms
Editing rooms are situated on the second floor of the administrative building. Nearby is also the Paper Archive Room (201B) and Olga Nikolaevna Derevjankina's office. On the first floor there is Olga Petrenko's offie. The building also has a buffet and smoking area. When you arrive, you can find maps detailing the building.
Rules and Regulations in the Reading Room / Editing Rooms
It is forbidden to take any food or drinks into the editing rooms.
There is a paid service for making high resolution photos of films and documents (See https://gosfilmofond.ru/dokumenty/?fbclid=IwAR2X__exAxfVxZNntsr4fSnJ6qfXqgvEbALvtWcNZ_ucVwDt80ggedWycZI).
It is prohibited to visitors to order films on nitrate base. In case you inevitably depend on the material represented only on nitrate base, it may be possible to ask about the organized events lead by archival researchers.
Archive Databases and Online Finding Aids
There is an online search on the official website of Gosfil'mofond (http://gosfilmofond.ru/catalog-page-1/), but it doesn't work very well. If you have trouble confirming availability or answering your questions, it is best to write the staff.
Practical Advice
Food: During the lunch break, you can visit the buffet or you can go to "stolovaia" (canteen). Stolovaia is a bit more difficult to find as it is in another building on the GFF territory, but do not hesitate to ask colleagues from the research department and they will help you to find whatever you need.
Accommodation: If you are planning many days of work in the archive, there is a possibility to book a room in the pension on the territory of Gosfil'mofond. You need to send a request, just as you've done with your request to visit the archive, and ask for a room in the Gosfil'mofond pension (пансионат при Госфильмофонде).
Domodedovo airport: If you arrive at Domodedovo airport and have plans to stay at Gosfil'mofond pension, it is very comfortable to get a taxi from the airport. It will cost about 1000 Rubles and the car journey will take about half an hour. You can also use the same taxi telephone numbers provided above (see How to Find the Archives Site), which should result in a cheaper journey.
Citation Suggestion
Iryna Marholina: Госфильмофонд России (ГФФ) / The Gosfil'mofond of Russia (GFF), in: ESE Archives Guide: A Web Guide to East and Southeast European Archives, 2019 (2021-01-11), https://www.ese-archives.geschichte.uni-muenchen.de/?p=2353.